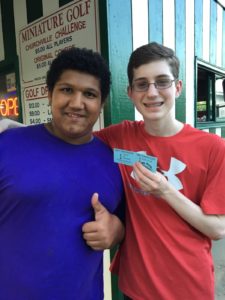 Upcoming Events:
Join The IMAGE Center in collaboration with the Occupational Therapy Department of Towson University for the Connect program for teens and young adults. The Connect program is designed to empower young adults to achieve skills of self advocacy, build opportunities for self exploration and increase skills for increased independence.
Connect will kick off for 6 total weeks beginning on October 12th and ending on November 16th and will take place at The IMAGE Center on two Wednesday's of each month from 6-8 pm. Dates include October 12th, 26th and November 2nd and 16th. All lessons will center around critical skills for independent living including safety awareness and community mobility, meal preparation, money management, and learning to advocate future aspirations.
Additionally this session, registered Connect participants will also have the opportunity to participate in Living Out Loud (LOL) which will meet in conjunction with the Connect program (on the off weeks that the Connect program does not meet). Living Out Loud works to promote opportunities for participants to informally meet alongside Towson students to participate in inclusive events and happenings in and around the community. The optional Living Out Loud meetups will be open to Connect program registrants on the weeks of October 17th and November 7th. Days and times for those meet up sessions will be announced after each Connect program session based on community events and happenings.
*Please note that both programs are covered under the registration fee.
Register now and empower your child to get Connected and begin Living Out Loud!