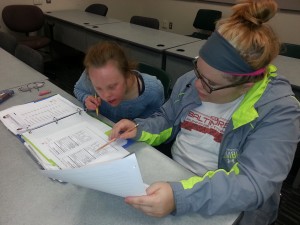 Pictured to the right UMBC SUCCESS student Chloe assumed the role of both student and teacher in todays lesson on healthy eating.
A large part of the IMAGE course on Independent Living this semester encourages students to further their learning of curriculum by not only retaining the information that is taught, but extending that learning through the teaching of others in the class.
Chloe's peer Carin, also pictured above, was just one of several of our students diving deeper into course curriculum today utilizing the knowledge of their peers to help them further their understanding of lesson material.