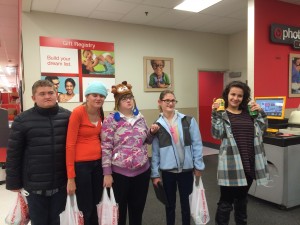 Some of the participants of our Teen Connect program made purchases of nonperishable food items over the Thanksgiving holiday in the hopes of extending gratitude to those less fortunate. All food items were delivered to the Manna House Food Pantry of the Bel Air United Methodist Church where they will be utilized in the weekly food pantry program.
We are encouraging our participants and their families to continue to extend their gratitude to others this holiday season!
The IMAGE Center seeks donations daily in order to build programming that is essential to the independent growth of individuals with disabilities and new this holiday season donations of $30.00 or more will receive a new IMAGE T-Shirt to help spread our message of empowerment.
We hope that everyone will help to make a difference in their community this holiday season. As always we will stay committed to empowering those who need it most!
Happy Holidays!