The theme for the Independence Amplified Maryland session on Monday March, 8, 2021 was focused around introducing several support groups available in Maryland.
Women Embracing Abilities Now (W.E.A.N.)Meetings on the 3rd Sunday 4pm. Contact Janice Jackson at 410-433-0614 ablejan@aol.com www.wean1.org. You can find them on Facebook: https://www.facebook.com/weanqueens
Socky Bellamy: League of Extraordinary Gentlemen (L.E.G.S.): For more information, please email: theextragents@gmail.com You can find the public group on Facebook at https://www.facebook.com/groups/189997477713243
Maryland Trans Unity http://www.transunity.net/ and on Facebook at https://www.facebook.com/MarylandTransUnity or for information on the Support Group, please contact the group at facilitators@transunity.net
Lighting Your Path: Navigating Your World and Enhancing Your Everyday Life  2nd Wednesday 1-3pm via Zoom. Please contact Rochelle Harrod at rharrod@innow.org for information or visit the Independence Now calendar: https://www.innow.org/event/lighting-your-path-03-2021/
Crystal Brockington: Live and Thrive on the Third Friday of Each Month. Contact Crystal at 443-219-7407 cbrockington@imagemd.org or Shannon at 240-638-0070.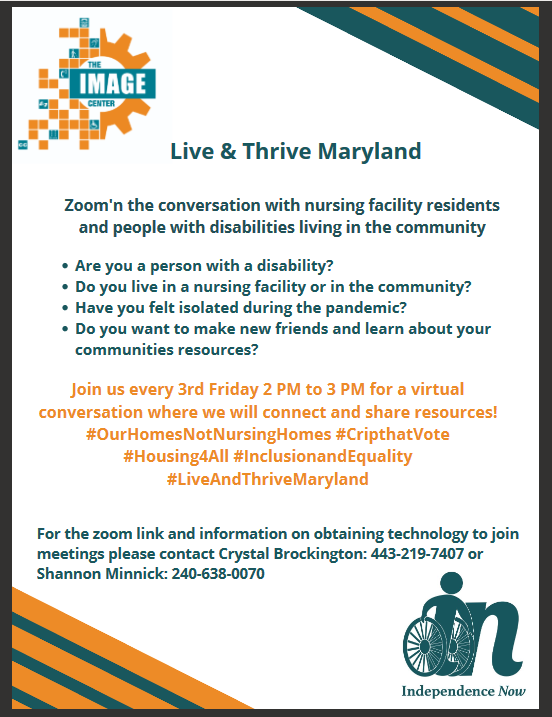 For more information about upcoming Independence Amplified Maryland broadcasts, visit our website where you can register or donate to support this program!