2020 was a year of unexpected challenges and opportunities. On March 13, we closed to our office due to the lockdown but were immediately serving consumers remotely without a gap in service on Monday, March 16, 2020! While many other organizations were still figuring out how work remotely and deliver services, IMAGE staff used their skills and ingenuity to find solutions to the challenges of serving clients during the lockdown!
We launched a weekly live Zoom broadcast to increase connection among the community, provide an opportunity to find out what needs our neighbors are experiencing, and to serve as a reliable source of information during the Pandemic. Over the summer, we partnered with the other Centers for Independent Living around the state of Maryland to expand the conversation state-wide.
Nursing homes and other congregate living settings were identified early-on as high-risk for the spread of Covid-19. Working with our state partners, we were able to provide feedback to change federal regulations regarding the ability of individuals to leave nursing homes without losing their place in line for waiver services.
Our first success story involved getting a gentleman out of a nursing facility and back to his home while he waited. Our Ramp Loan program helped create access to his home.
We've been a voice advocating for people with disabilities regarding transportation, services, food distribution, and access to vaccines. You can see some of our efforts in the Baltimore Sun and on WYPR.
Our VME program did a one of a kind remote rollator repair for a woman via Zoom in April!
Our school engineering teams expanded adding MIT to the fold.
We started a partnership with Milbat, a nonprofit in Israel serving people with disabilities.
All of this was accomplished on top of our core services! With a small but mighty staff and limited funding we served over 25,000 people with disabilities last year. We are not stopping here. We have bigger plans for 2021 including doubling our supports services for Veterans, adding supports planning to our existing portfolio of services, building a community lending library of assistive technology devices, and continuing the weekly Zoom events. You can partner with us by investing in our programming so we can continue to serve and advocate for people with disabilities.
You can invest in IMAGE in a several ways:
If you don't have a urgent need for your stimulus money, please help build our Covid-19 Lifeline Impact Fund.
A recurring gift is a fantastic way for you to routinely support our expanded portfolio of services. Every gift makes a difference!
Talk to your employer about Matching Gifts! Many area companies match employee volunteer hours and donations which is a great way to double your investment.
We've compiled a Performance Report of our activities for 2020. The infographic shows the impact of IMAGE during the Pandemic year. Invest in IMAGE for 2021 so we can do even more! We've provided the report as visual images, a PDF file, and a text transcription.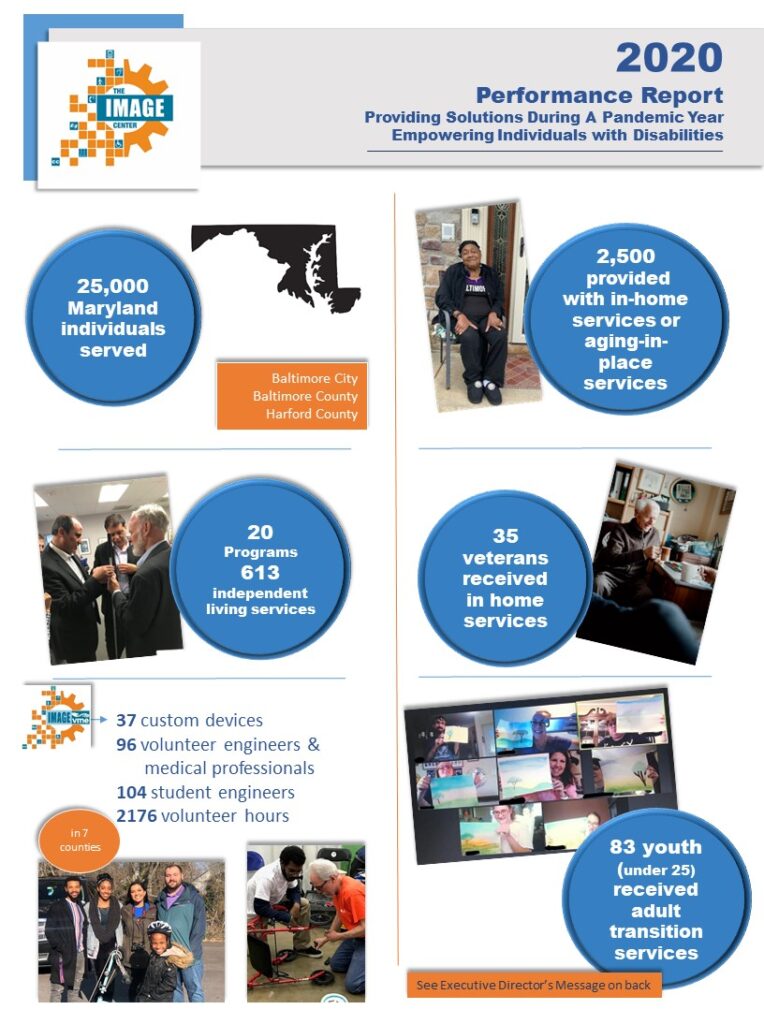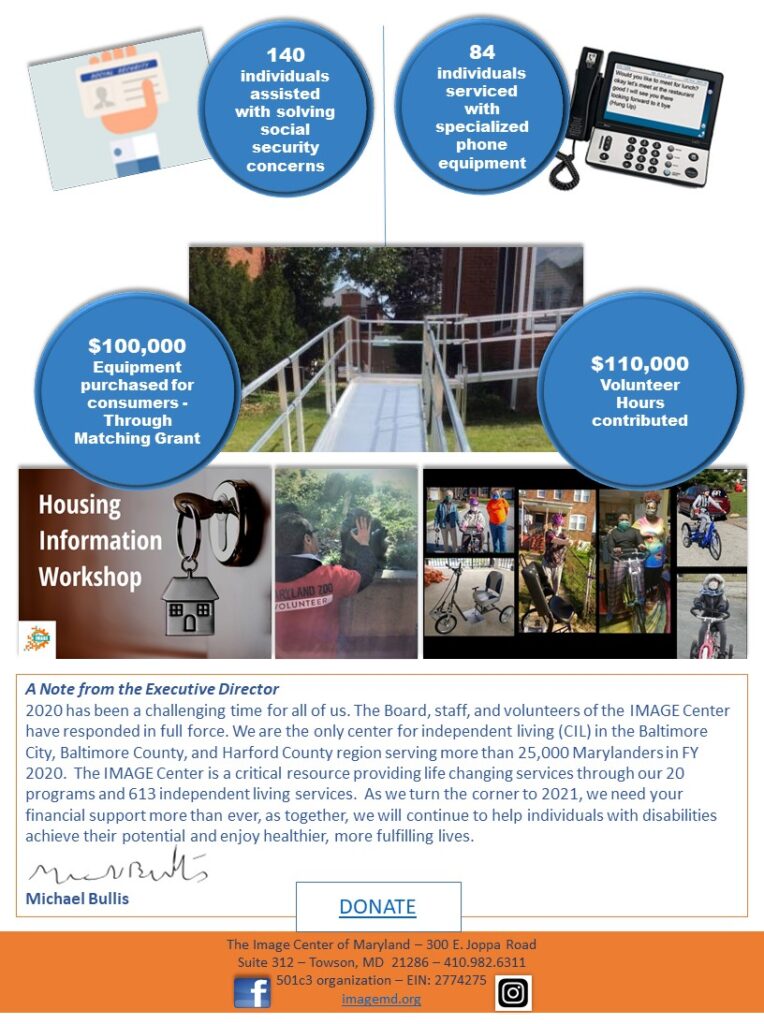 2020 Performance Report Text docx
We appreciate your continued support of the IMAGE Center through this difficult year. We look forward to a better 2021 where we can be together in person and do even more!