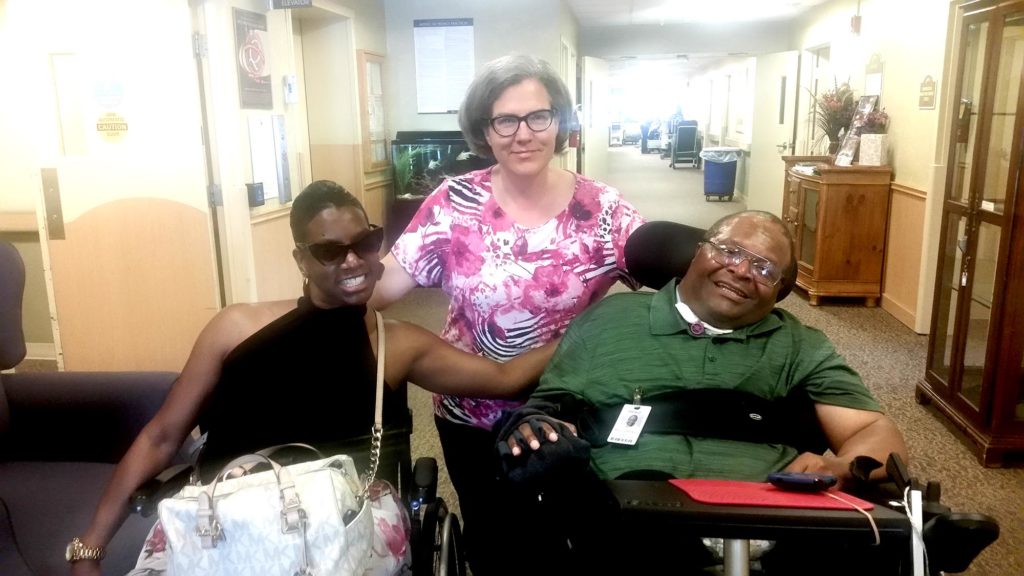 If you, or a loved one, are currently receiving services in a nursing facility and considering care in the community or assistive living, Out & About may help! Our Peer Support Staff are experienced and dedicated to helping people who are seeking to return to life in the community with or near to their friends, family, work, or places of worship. If you are interested in accessing resources that may help you, our Nursing Facility Outreach and Transition Team may be able to provide assistance.
Our Out & About Program helps people get Out of Nursing Facilities and ABOUT life in the community. If you, or someone you know, needs help in getting out of a nursing facility or are in danger of entering one, contact us for assistance. Our services are offered at no cost! We can connect you with community and state services that may help to pay for care and assistance, including Medicaid Long-Term Care Home and Community Based Services, while providing informational assistance from professional people who have been where you are and are now living in the community with personal supports, working, and supporting their families.
Our friendly and knowledgeable staff visit with nursing facility residents, family members, staff, and case managers to provide information and resources on accessing community services. We find that when people have an opportunity to learn and receive guidance from a Professional Peer who has experienced moving from a nursing facility back to the community, while navigating new medical or physical challenges, there is a greater success in returning to a more full life.
While all residents are eligible to receive support from our staff about community living and assistive resources, only residents that are planning to apply for Medicaid Long Term Care, or those who already have Medicaid Long Term Care or Community Medicaid, are eligible for application assistance for Medicaid Home and Community Based Services, such as Community First Choice and the Home and Community Based Options Waiver. These two programs are Maryland State Programs designed to provide community services and supports to enable older adults and people with disabilities to live independently in their own homes. Available services may include: personal assistance services, assisted living, environmental assessments, accessibility adaptations, supports planning, transition services, nurse monitoring and more. *If you are not eligible to apply for these programs, the Out & About Nursing Facility Outreach and Transition Team may have information from alternate resources and community groups that may still be able to help you!
Application process
Residents with Long Term Care Medicaid are eligible to apply for the Home and Community based Options Waiver, and residents with Community Medicaid are eligible to apply for Community First Choice. If a resident has either and is currently living in a nursing facility in Baltimore City, Baltimore County or Harford County, an IMAGE Center staff member will provide application assistance and support during monthly facility visits or by appointment.
Contact
Please contact out&about@imagemd.org or call 443-219-7407 for information!