Bike Clinics are fast-paced, one day events where volunteers build multiple bikes in a day. Because of COVID, social distancing changes have been added, but the goal still remains the same – to help children receive custom bikes to ride with siblings and neighbors and to allow VME volunteers to have fun in the process. Video above: Bike Clinic at Morgan State University – Fall 2019
Process
Families submit requests along with a video of the child walking or riding a bike from school (below). Measurements and medical information are gathered to help with the customization. Once approved, parts are ordered and bikes are built in a day. A volunteer physical or occupational therapist evaluates the bike for a good fit. Tweaks are made and the bike is ready for riding! Sometimes a new part is needed and another appointment is made to complete the modified bike – fit to size! We also supply a helmet – to match the new, cool, head-turning bike!
Volunteer
Bike Clinics are special opportunities for volunteers with limited time and for children and adults with disabilities who are unable to ride a standard bicycle. Many smiles and tears of joy!
Volunteers: Experienced Engineers, Bike Techs, PTs & Novices: You can volunteer. If you have 2-4 hours to help build or custom fit bikes. Sign-up by calling: 443.320.4007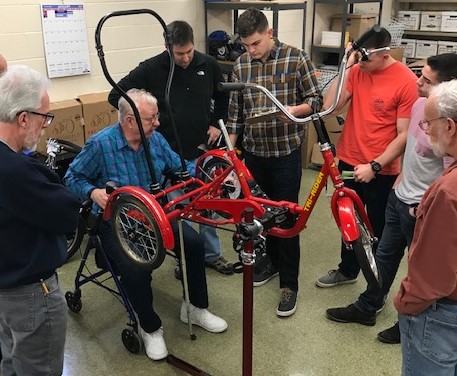 Who qualifies for our bike clinics?
Must weigh at least 65 lbs. — and not more than 175lbs.
Must be able to do at least a 1/2 pedal rotation
Must be able to grip a handlebar
Must be able to sit upright
Be able to make "stop & go" decisions on their own (even if accompanied)
If your child does not qualify for the Bike Clinic or you cannot afford our reduced fee, give us a call anyway. Let's talk about options so we can get your child riding! 443.320.4007
Is your child is eligible? Fill in the form & ask for a custom bike!